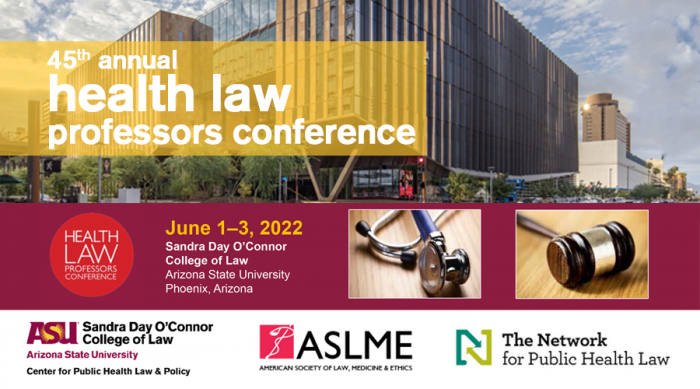 45th Annual Health Law Professors Conference
Hosted by the Sandra Day O'Connor College of Law at Arizona State University
Together with my faculty colleagues, administrators, alumni, and students, we look forward to welcoming you to the 45th Annual ASLME Health Law Professors Conference at the Sandra Day O'Connor College of Law, Arizona State University, in downtown Phoenix, Arizona, from Wednesday, June 1 to Friday, June 3, 2022.
The Sandra Day O'Connor College of Law and Center for Public Health Law and Policy are honored to collaborate with ASLME to host this great conference at Arizona State University for the second time (previously hosted in 2012). Please see the agenda here or click the "Agenda" menu tab at the top of this site for a current PDF copy of the conference Agenda. Take a moment to view our brief "Conference Program" slides to get a sense of the flow of this year's conference, as well as other information.
With established programs in public health law, law, science, and technology, global affairs, immigration, tribal law, and law and sustainability we plan to explore manifold themes in health law, policy, and ethics with you during the conference.
ASU Law's new facility is within easy walking distance of multiple hotels, sights, and the Van Buren/ASU light rail station that can get you here from Phoenix's Sky Harbor International Airport in less than 20 minutes. Plan to stay at one of the multiple hotels near the ASU Law campus to enjoy all conference events and opportunities. Nearby hotel accommodations close to our ASU Law downtown campus are available here (under "Hotels," select "Downtown Phoenix Campus" for a listing of select hotels with "ASU preferred rates;" other hotels are also available in close proximity to the law school as well).
Be sure to check out our links for things to do in the greater Phoenix metropolitan area, as well as nearby dining options.
Temperatures in Phoenix in early June will be dry and hot during the day, but cooler in the evening. Arrive early or stay late to enjoy separate excursions to Arizona's high-altitude mountain country and the Grand Canyon.
We'll share additional information leading up to the conference and look forward to welcoming you to ASU's Sandra Day O'Connor College of Law for an engaging and memorable event.
With best wishes,
James G. Hodge, Jr., J.D., LL.M.
james.hodge.1@asu.edu
Peter Kiewit Foundation Professor of Law
Director, Center for Public Health Law & Policy
ASU Sandra Day O'Connor College of Law
Special thanks to our Platinum- and Gold-level conference sponsors, including: