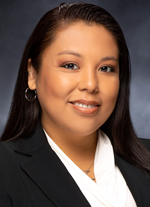 Attorney, Sacks Tierney

Candace French has more than ten years of experience working in Native American communities and has dedicated herself and her legal career to serving Indian Country.
Originally from Anadarko, Oklahoma, Candace is an enrolled member of the Wichita and Affiliated Tribes and is of Navajo, Comanche, and Blackfeet descent.
Prior to joining Sacks Tierney, Candace was an attorney in the Navajo Nation Office of Legislative Counsel. In that capacity, she provided legal representation and legislative services to the 24-member Navajo Nation Council, standing committees and other programs within the legislative branch.
Admitted to practice in Arizona and the Navajo Nation, Candace is a member of the State Bar of Arizona Indian Law Section.
Candace received bachelor's degrees in Political Science and American Indian Studies, a master's degree in Criminal Justice, and her J.D. with a certificate in Indian Law, all from Arizona State University.