2023 Morrison Prize Winners
Call for Entries
ASU's 2023 Morrison Prize Contest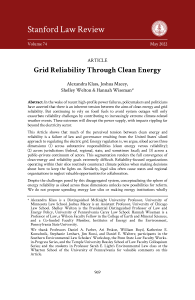 This year's prize-winning paper, title Grid Reliability Through Clean Energy, was published in the Stanford Law Review in 2022 and was authored by professors Alexandra Klass (University of Michigan Law School), Joshua Macey (University of Chicago Law School), Shelley Welton (University of Pennsylvania Carey Law School) and Hannah Wiseman (Penn State Law).
The article argues that continued reliance on fossil fuels will only exacerbate the reliability challenges plaguing the nation's electric grid. The authors outlines innovative strategies for strengthening grid reliability while accelerating the nation's transition to a lower-carbon energy system.
Read the full article at the Stanford Law Review.
About the Morrison Prize Contest
The Morrison Prize is a $10,000 award presented to the author(s) of the most impactful sustainability-related legal academic paper published in North America during the previous year. All entries undergo independent review and scoring by a group of professors not affiliated with ASU who teach in environmental sustainability-related areas at various North American law schools. The scores from these judges are aggregated to determine the prize winner. The prize winner(s) present their paper in a plenary session at that year's conference.
The Morrison Prize contest is open to full-time law professors who have published environmental sustainability-related papers in printed U.S. or Canadian legal academic journals during the contest period. The contest is not open to students. All papers appearing in a qualifying journal's final 2021 issue or in an issue printed and circulated prior to November 15 fall within the 2023 contest period. Works-in-progress and papers that are not published in print form before the deadline are not eligible.

Law journal articles focused on topics in environmental law, water law, energy law, natural resources law, land use law, disaster law, climate change law, or agricultural law meet the subject matter requirements for eligibility.
Mail a Cover Letter and Five (5) Offprints of your qualifying paper to:
2023 Morrison Prize Contest
c/o: Jay Jenkins
Sandra Day O'Connor College of Law
Arizona State University
111 E. Taylor Street, Mail Code 9520
Phoenix, AZ 85004-4467
Deadline: Saturday, December 31, 2022
Entries postmarked by the deadline will be accepted. Nominations of colleagues' or peers' articles are welcome but must include five (5) offprints.
Judging Process and Criteria
The Morrison Prize seeks to recognize the paper published within the eligibility period that is likely to have the most significant positive long-term impact on the advancement of the environmental sustainability movement. All eligible papers entered into the prize contest will undergo independent review and scoring by a diverse group of full-time law professors who teach in environmental sustainability-related areas at four different accredited North American law schools.

The contest scoring system focuses primarily on a paper's quality and originality of analysis (20%) and potential for real-world impact on policy developments directly related to environmental sustainability goals (80%).

ASU Law will announce the 2023 Morrison Prize winner in February 2023. The winner must present the winning paper at the SRP Sustainability Conference of American Legal Education on Friday, May 12, 2023 in Phoenix, Arizona to claim the cash prize.
2022: Joshua C. Macey, professor of law at the University of Chicago Law School, and Matthew R. Christiansen, general counsel at the Federal Energy Regulatory Commission for their article "Long Live the Federal Power Act's Bright Line."
2021: Joshua C. Macey, assistant professor of law at the University of Chicago Law School, for his academic article "Zombie Energy Laws."
2020: Jim Rossi and Christopher Serkin, professors at Vanderbilt Law School, for their paper "Energy Exactions."
2019: A six-author team, for their article "Climate change challenges for land conservation: Rethinking conservation easements, strategies, and tools."
• Federico Cheever, professor at the University of Denver Sturm College of Law.
• Jessica Owley, director of the environmental law program at University of Buffalo — State University of New York.
• Adena R. Rissman, an associate professor at the University of Wisconsin-Madison Department of Forestry and Wildlife Ecology.
• M. Rebecca Shaw, chief scientist at the World Wide Fund for Nature.
• Barton H. Thompson Jr., a professor of natural resources at Stanford Law School.
• W. William Weeks, director of the Conservation Law Clinic at Indiana University's Maurer School of Law.
2018: Hari M. Osofsky, professor at Minnesota Law School, and Jacqueline Peel, associate dean of the University of Melbourne Law School in Australia, for their academic article "Energy Partisanship."
2017: Michael P. Vandenbergh and Jonathan Gilligan, professors at Vanderbilt University, for their article "Beyond Gridlock."